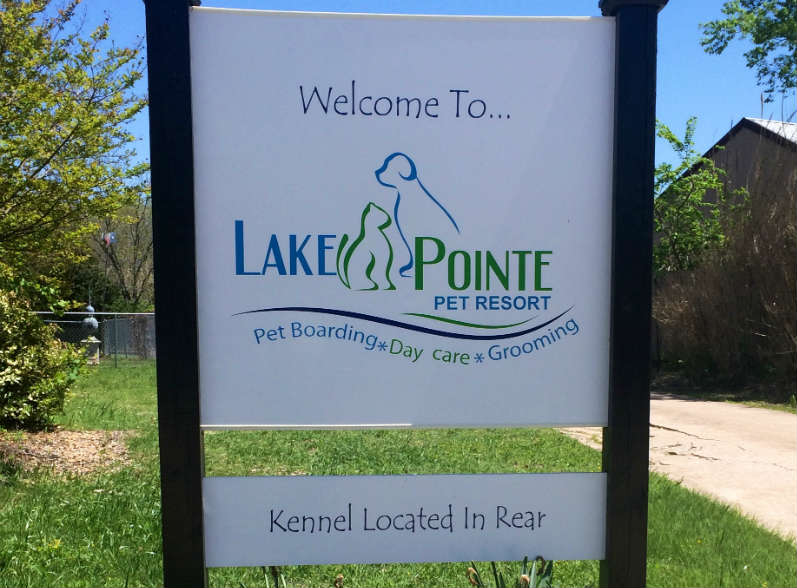 Our Story
Our passion has always been the care of animals and we feel honored to have the opportunity to care for yours. Lakepointe Pet Resort and Spa is conveniently located in Rowlett, Texas on 2 ½ beautiful park like acres making a setting for a peaceful and enjoyable stay for your pets. The owner resides on the property giving you the added security and comfort knowing your pet will be watched over. Lakepointe Pet Resort has been in business at the same location since 1987.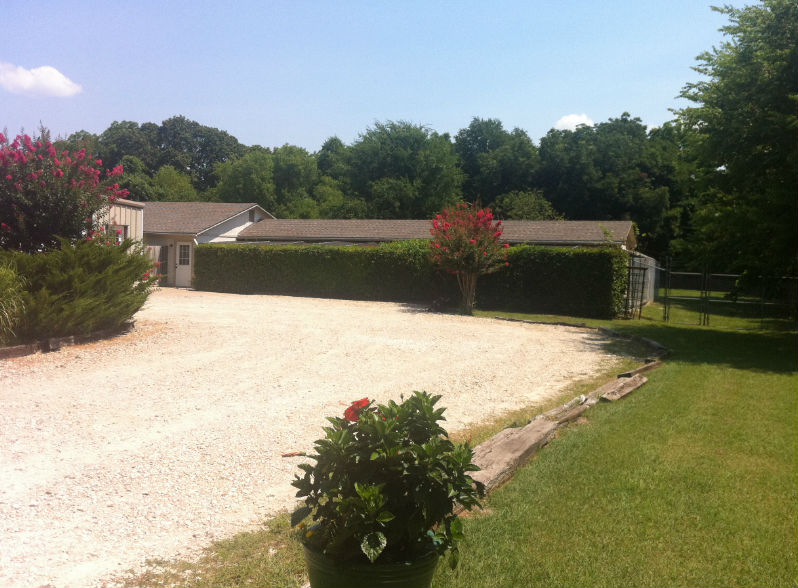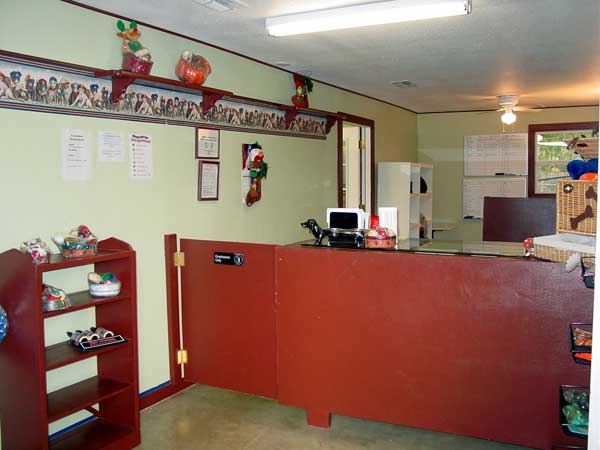 Our Facility
We provide personalized, loving care for your pets. We treat all pets as if they were one of our own. Each pet is housed in spacious climate controlled suites, fed two meals a day and rotated out to grassy play yards for daily exercise (weather permitting). We clean and disinfect twice each day to ensure your pet has a clean safe area. Our staff continuously monitors your pet's behavior, including eating and restroom habits to ensure a happy and healthy guest. Should we feel your pet has a health concern, we will attempt to contact you or the emergency contact provided by you. We will also contact the veterinarian of your choice for a consultation over the phone. Any vet visits or medications will be the responsible of the pet owner. We administer medications at no additional charge.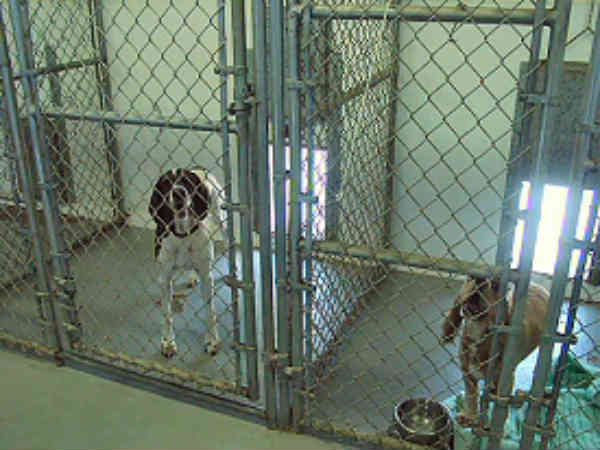 Our Indoor/Outdoor Suites
These suites range in size from 4x4inside with a 4x12 outside run to a 4x5 inside with a 10x12 outside run. Pet placement is solely base on the needs and behavior of the individual pet. The indoor area is climate controlled and is maintained at a comfortable temperature for pets. Each run has its own doggy door where pets are free to go in and out during the day. Pets are closed in for the night and the doors are opened again first thing the each morning.
Our Indoor Only Suites
Our Indoor suites primarily used for cats, special needs pets, and overflow during peak seasons. Fiberglass suites are 4x5x6 and can easily accommodate bedding, toys, and other pet items. Cats are offered a second story to lounge on throughout their stay. Dogs housed in these indoor runs are released into one of the play yards several times each day for exercise. All pets boarded in these areas get much more one on one attention from our staff and get additional yard time not available for those pets boarded in our larger suites. They are 4x5x6 and are primarily setup for cats and special needs dogs. Dogs housed in these indoor runs are allowed to run the play yards several times each day for exercise.
Our Play yard
We have several spacious play yards for your pet to play in while they are staying at the resort. Please let us know of any special tricks your pet knows so we can encourage their learning and fun. Pets are released into the yards for exercise; they are not walked on a leash.
Our Doggie Day Care
For those of you with busy lives who feel your pet may not be getting all the exercise or attention they need, we offer affordable Doggy Day Care. Our program includes two playtime sessions with a group of compatible dogs in the large grassy yard, snacks at lunchtime, and an indoor/outdoor suite for naptime. Dogs who participate in our Doggie Day Care program must be spayed or neutered and must pass our behavior evaluation prior to group play. Reservations are recommended in order to ensure we have a room available. Drop your dog off between 8 - 10 a.m. and pick them up between 4 - 6 p.m. Doggie Day Care fee is $20 per day. During hot summer days, we provide wading pools to romp in. Clients must request a $10 clean up if they would like their pets clean and dry prior to pick up. Daycare and Day Stay does not include medication, meals or a sleepover..
Our Grooming
Currently we do not have a groomer. Our grooming is limited to baths and nail trimming at this time
Requirements and Extras
It is critical that pet owners study the facility to ensure that it is designed to meet the needs of their particular pet. Lake Pointe Pet Resort is not responsible for illness, accidents, escape, or death while standard operating procedures are being followed. It is the pet owner's responsibility to ensure that all questions are answered thoroughly in order to make an informed decision as to the safety and well being of their pets. It is also the owner's responsibility to inform our staff of any information regarding their pet pertinent to their care such as health issues, fence climbing, digging, etc. While we make every effort to provide a safe and comfortable environment for our guests, it is ultimately the owners who best know and understand the pet's behavior and health, therefore, in choosing our facility, you have determined that it is the best facility for your pet and you agree that our policies and procedures are acceptable in caring for your pets.
Healthcare: Owners are required to provide a copy of each pet's shot records. Vaccines should include Rabies within 3yrs, DHPP (distemper combo), and Bordetella (for Canine Cough) within six months for Dogs, Rabies & FVRCCP (feline combo) for cats within six months. Any deviation from these requirements MUST be in writing from your veterinarian, and a waiver must be signed by the pet owner. B Other small animals (hamsters, snakes, etc.) need to have a written statement from a vet indicating pet is in good health or a waiver for all health issues will need to be signed. Pets are also required to be on flea prevention such as Frontline or Advantage. Should your pet not be on a preventative, we will administer a monthly dose for an additional $10 fee. If fleas are apparent, we will need to give your pet an immediate flea treatment at the beginning of his stay for a fee of $30. All pets should be in good health prior to boarding.
Special Needs
If your pet requires special needs due to age or health issues, we offer additional accommodations to assist you. For example, if your dog has recently had surgery and requires physical therapy several times a day or other constant monitoring, this poses a problem for most families who work during the day and cannot focus solely on the needs of their pet. As an alternative to missing work or the high price of kenneling your pet at the vet's office, you may board your pet at our facility either for the day or overnight to ensure that his needs are met. Although we do not have office hours throughout the day, we often have staff tending to the kennel and can make any necessary adjustments to assist your pet. Additional fees outside of the standard boarding rates may be assessed based on the needs and requirements of the individual pets. For pets suffering from the typical health issues that come with age like arthritis and other joint problems, Lake Pointe offers Therapedic beds for sleep comfort. We also have special amenities for pets with disabilities